Tour Specials!





Book a Sailaway Low Isles Afternoon Departure 1pm Afternoon departure 3 hrs at Low Isles Snorkelling Glass bottom boat Departs Island at 5pm Canape's & drink
Tropical.. Scenic.. Perfect!
Return hotel transfers, freshly brewed coffee, scones, jam & cream, Sundowner and Canapes

Living the dream!


Travel between now and 31/March/2019





Silversonic Explore 3 outer edge reef locations at Agincourt Ribbon Reef in superb style and comfort. Enjoy over 5 hours exploring the delights of this underwater world.
REEF ADVENTURE!
- Swim with Whales (if encountered)
- Ultra modern Catamaran
- Fastest vessel to the reef
- Super smooth
- 3 of the best reef locations
- 5 hours of actual reef time
- Permit to swim with whales

Silversonic has one of very few permits allowing you to swim with Minke Whales if they are encountered.
Travel between now and 31/March/2019





Quicksilver Outer Reef combines an unforgettable Outer Reef cruise to Agincourt Ribbon Reef including a thrilling 10 minute Scenic Reef Flight
REEF FROM THE AIR!
- 10 minute Helicopter Flight
- Semi-Submarine
- Underwater Observatory
- Snorkelling
- Lunch

GREAT FUN!


Travel between now and 31/March/2019





Barron River Rafting 2 hours of rafting Grade 3 rapids in the Barron Gorge National Park. All tuition provided.
4 People or more special
- Port Douglas hotel transfers
- Pick-up 1:15 pm
- Return 6:30 pm


- Includes National Park Fees
Travel between now and 31/March/2019
We found 11 tours in the category
Viewing 1 to 11 of 11 tours
Page 1
Barron River Rafting - Foaming

Barron River Rafting
No Experience needed
Fun in Natures Theme Park
Popularity

Service

Value

Overall

Based on 58 ratings
2 hours of White Water Rafting
with Foaming Fury on the Barron River. This tour departs in the afternoon and offers guaranteed water levels year round. The Barron River is approx. 60 minutes south of Port Douglas and close to Cairns and Beaches. ...
more info
Jungle Canopy Surfing

Glide through the rainforest
Rainforest adventure for all ages
Fly through the trees on zip lines
Popularity

Service

Value

Overall

Based on 69 ratings
Jungle Surfing Canopy Tours
is a must-do, new and exciting way to view the World Heritage Listed Rainforest in Cape Tribulation. If you have your own car this self -drive option is great fun. Fly with the birds and tree kangaroos, as you glide up through and above the rainforest canopy along a series of flying fox cables or zip lines...
more info
Cooktown 4WD Adventure

Full Day Cooktown Safari
Lunch at Lions Den Hotel
Bloomfield Track | Free time in Cooktown
Popularity

Service

Value

Overall

Based on 14 ratings
Adventure North Tours Cooktown:
Travel through the rugged terrain of the famous Bloomfield Track from Cape Tribulation enroute to Cooktown - one of Australia's most historically significant townships. Lunch at famous Aussie Bush Pub - The Lions Den. ...
more info
Mountain Biking

Ride in ancient rainforest
Awesome fun!
Famous "Bump Track"
Half day and Full day
Mountain Biking
from Port Douglas like you´ve never seen it before. Try the famous "BumpTrack" only one of the ten best mountain bike rides in Australia!...
more info
Sea Kayak Port Douglas

Gentle Coastal Sea Kayak
Morning departures
Low to Moderate Fitness Required
Popularity

Service

Value

Overall

Based on 3 ratings
Sea Kayak Port Douglas,
one of Tropical North Queensland's most unspoilt and uncrowded coastal environments with Back Country Bliss Adventures. Explore the reef and island area on board safe sit-on-top sea kayaks out of Port Douglas...
more info
Dan's Mountain Biking- Cape Trib

Cape Tribulation Mountain Biking
Grade 3 dirt trails
Fully guided full day
Popularity

Service

Value

Overall

Based on 1 ratings
Mountain biking at Cape Tribulation is a fun and active way to explore the tropical rainforest. All your senses are stimulated whilst you cycle through this unique area. Be prepared to get sweaty and dirty with
Dan's Mountain Biking!
...
more info
Beach Horse Trail Rides

Beach Horse Trail Rides
Horse Ride on the Beach
2 Hour Relaxing and Personalised Ride
Join Ride the Beach Adventures for a 2 hour relaxing and personalised horse ride along the sandy beaches north of Port Douglas.
...
more info
Barron Rafting RagingThunder

Half Day White Water Rafting
2 Hours of Grade 2-3 Rafting
No experience necessary
Popularity

Service

Value

Overall

Based on 55 ratings
Only 20 minutes from the centre of Cairns, the
Barron River
is a fantastic introduction to White Water Rafting. Offering guaranteed water levels year round, no experience is necessary to raft these Grade 2 & 3 rapids.
Afternoon Departures only from Cairns -
Departs Cairns daily 2:00pm (returns approx 6:00pm). Departs Port Douglas daily at 10:00am with free time in Cairns included before Rafting activity (returns approx 6:15pm to Port Douglas)....
more info
Ocean Safari

Pristine half day eco tour
Visit 2 snorkel destinations
Maximum 25 passengers
Popularity

Service

Value

Overall

Based on 11 ratings
Join
Ocean Safari
for an exhilirating ride to snorkel the pristine untouched reefs off the Daintree Coast at Cape Tribulation. Visit two different snorkel destinations such as Mackay and Undine Reefs for an extraodinary array of marine life and coral species...
more info
AquaQuest

AquaQuest
Visit 2 exclusive dive locations
Hot and cold buffet lunch
AquaQuest
is the newest luxury dive & snorkel vessel in Port Douglas. Join our friendly and professional crew for an awesome day trip to the best of the Outer Reef. Fully equipped with the most modern and state of the art facilities including Nitrox. As the newest vessel in Port Douglas, passengers will enjoy comfort and some of the best dive and snorkel locations on the Outer Great Barrier Reef at Agincourt, Opal and St Crispin's Reefs.
...
more info
Sailing day from Cape Tribulation

Full Day Sailing & Snorkelling Adventure
Mackay & Undine Coral Cays
First Class Service
Luxury Catamaran Sailaway IV: This is the perfect sailing and snorkelling adventure departing from Cape Tribulation Beach daily. Sailing time is approximately 1.15 hours of pure sailing. Nature activities include snorkelling over the pristine coral reef with a qualified marine biologist offering reef interpretation and a guided glass bottom boat tour. Premium reef sites showcase abundant marine life, including encounters with turtles and an amazing display of giant clam gardens. Exploring the white sands of the coral cays will relax the mind. Soak up the sun, peace and tranquility and swim in turquoise clear waters.

...
more info
Viewing 1 to 11 of 11 tours
Page 1
Adventure

If you are seeking some adventure, looking for some thrills, perhaps something to get the heart started, or in need of some exploration then take a look at our range of adventure tours below. We have everything from white water rafting and Jungle Canopy Surfing to Cooktown Adventures and Hot Air Ballooning. No matter the level of thrill you are seeking, we have adventures for everyone!
White Water Rafting

The Barron River is perfect for anyone who hasn't tried White Water Rafting or for those looking for an afternoon of fun and adventure. Rafting is one of the most fun and exciting ways to discover the pristine rainforest of Tropical North Queensland. The Grade 3 Barron River Half Day Tour is perfect for ages 13 to 99, and all fitness levels. Located 20 minutes from the heart of Cairns, the Barron River has the advantage of departures all year round, tropical water temperatures and ease of access to compliment the breath-taking scenery and rapids. Each raft is controlled by a highly trained river guide, who teaches you the correct techniques during the day, and who will share with you local knowledge about the river and the magnificent landscape which few get to see. The Barron Family Rafting is also a great introduction to white water rafting for children 6 - 11 years, where they can experience the thrills of paddling rapids graded 1 - 2. Coach transfers are available from Port Douglas.
Find out more:
Barron River Rafting
Barron River Family Rafting
Jungle Canopy Surfing

Jungle Canopy Surfing is a unique and exhilarating way to fully experience the heart of the Daintree Rainforest, from the bustling forest floor to the lush canopy above. Comprising of a system of platforms and cables, you can fly through the trees on flying fox ziplines that take you from tree to tree with bird's eye views over the treetops, down to cascading streams and out to the Great Barrier Reef. This fun, educational and fully-guided activity takes around 1.5-2 hours from pick-up to drop off, and you'll spend around 1-1.25 hours up in the trees, with plenty of time on each platform to experience the forest environment. The guides are very knowledgeable and all add to the fun factor. Suitable for all ages and weather conditions, Jungle Canopy Surfing makes for a great family day out.
Find out more:
Jungle Canory Surfing - Daintree Rainforest
ATV Quad Bike Adventures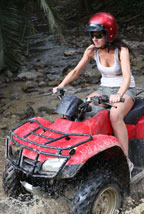 We all have moments when we just want to be a kid again and now you can at Daintree Station. Situated just outside Port Douglas, Daintree Station features over 30 Hectares of cleared and virgin country; and what do you do with all that space? Have a lot of outdoor fun, that's what!
Just like in the real bush way out West, Daintree Stations Jungle Rumble Quad Bike Adventure has been inspired from long term experience working on North Queensland Cattle Stations. ATV's (All Terrain Vehicles) are 4 wheel motor bikes also called Quad Bikes. They began life as bubble wheeled farm vehicles but have been re-invented as the hottest new outdoor recreation vehicle in the world. Zoom along old logging rainforest tracks with exciting water crossings, open plains, and hill climbs. The station's fleet of muster quad bikes are easy to ride with zippy Honda 250cc and 90cc bikes, suitable for all experience levels. This is a must do for the adrenaline junkie and makes for a fantastic wet weather option - be warned though, it can get a tad muddy if you have really serious fun! Morning & Afternoon Departures from Port Douglas available, minimum age 10 years.
Find out more:
Jungle Rumble Quad Bike Adventures
Blazing Saddles ATV Quad Bike Safari
Horseriding

Horse riding enthusiasts will love the spectacular scenery that goes hand in hand with a horseriding experience in Far North Queensland. We have a few options to choose from whether you're after a beach, bush or rainforest horseriding experience, you're sure to enjoy these personalised rides.
Giddy Up for Daintree Station's Horseriding. Situated just outside Port Douglas, Daintree Station offers adventures for everyone, with over 30 Hectares of cleared and virgin country on hand, their long term experience working on North Queensland Cattle Stations has inspired an exciting collection of outdoor activities. Join a small personalised ride through the Daintree Rainforest and surrounding property, following rainforest trails and water crossings. Suitable for all riders, beginners to advanced. Pony rides are available for children under six years.
Blazing Saddles Horse-riding tours offer a safe, relaxing way to meander through rainforest pockets, mangrove wetland, sugarcane fields and native bush. With a stable of horses to suit all ages and levels, this is a perfect family adventure. All horses have a friendly, mature nature and will be matched to each riders experience and ability. Draw up on horse-back alongside the 18 acre billabong for a billy tea over a camp fire and the chance to see a croc in the wild! Blazing Saddles is located on a working sugar cane farm in Cairns and the property boasts an 18 acre billabong which is abundant with native birds and amphibious creatures. Suitable from 4 years.
Further afield, Cape Trib Horserides is located in Cape Tribulation approx 1.5 hours from Port Douglas. Suitable for self drivers this tour departs from Cape Trib Beach House and takes you on a spectacular experience through cane paddocks, rainforest and onto Cape Tribulation Beach - where the rainforest meets the reef. Incorporating Beach, Rainforest, Creeks, and mountain views, riders will have the option of slow galloping in selected areas. Advanced riders can select a 3 hour tour which includes lunch at a private swimming hole.
Find out more:
Blazing Saddles - Cairns bush horseride
Giddy Up - Port Douglas Rainforest horseride
Cape Trib Horserides - Beach horseride (self drive)
Hot Air Ballooning

Experience the fun and unique sensation of being in a hot air balloon, flying high above the Atherton Tablelands. The Atherton Tablelands provides ideal weather and climate conditions for this gentle activity, and there's no better time than sunrise to marvel at the panoramic views and colours of this unique Australian landscape. The balloon takes off from a chosen location in Mareeba depending on the wind directions at that time, and gently floats along in whichever direction the air current chooses. The pilot cannot directly steer but adjusts the height carefully to utilise the wind currents and sail towards the closest, most appropriate landing site. You will travel with the wind and fly anywhere from 5 to 30 kilometres, depending upon wind speed and flight duration. When the burner is off it is easy to hear sounds drifting up from below you, dogs barking, birds singing etc. Wallabies and other wildlife are often spotted in the bushland and surrounding creeks.
Options are available to combine your hot air ballooning experience with the Kuranda Scenic Rail and Skyrail. Find out more details below.
Find out more:
Hot Air Ballooning - Port Douglas Pick Up or Self Drive
Balloon Packages - Kuranda & Hot Air Ballooning Experience
Whats Hot!
Travel Tools
Whats Hot!