Tour Specials!





Book a Sailaway Low Isles Afternoon Departure 1pm Afternoon departure 3 hrs at Low Isles Snorkelling Glass bottom boat Departs Island at 5pm Canape's & drink
Tropical.. Scenic.. Perfect!
Return hotel transfers, freshly brewed coffee, scones, jam & cream, Sundowner and Canapes

Living the dream!


Travel between now and 30/June/2017





Ultimate 3 Day Reef Pass Your ticket to the best and widest range of Great Barrier Reef cruises from Australia�s most awarded reef cruise company, the Quicksilver Group.
SENSATIONAL VALUE!
-Select 3 Cruises
-Outer Reef
-Luxury Sailing
-Spectacular Snorkelling
-Tropical Islands


Choose any 3 tours: Quicksilver, Wavedancer, Silversonic, Silverswift, Green Island and Outer Reef
Travel between now and 31/March/2018





Barron River Rafting 2 hours of rafting Grade 3 rapids in the Barron Gorge National Park. All tuition provided.
MAD MONKEY SPECIAL
*Includes Port Douglas hotel transfers
*Pick-up 1.15pm
*Return 6.30pm


*Includes National Park Fees
Travel between now and 31/March/2018





Jungle Surfing is a unique and exhilarating way to experience the beauty of the world-renowned Daintree Rainforest.
JUNGLE SURFING & WILDLIFE
-Wildlife Habitat tour
-Daintree River Cable Ferry
-Alexandra Lookout
-Jungle Canopy Surfing
-Picnic Lunch
-Daintree River Cruise
-Morning tea


Travel between now and 31/March/2018





Silversonic Explore 3 outer edge reef locations at Agincourt Ribbon Reef in superb style and comfort. Enjoy over 5 hours exploring the delights of this underwater world.
REEF ADVENTURE!
* Swim with Whales (if encountered)
* Ultra modern Catamaran
* Fastest vessel to the reef
* Super smooth
* 3 of the best reef locations
* 5 hours of actual reef time
* Permit to swim with whales

Silversonic has one of very few permits allowing you to swim with Minke Whales if they are encountered.
Travel between now and 31/March/2018





Daintree Discovery Tours Be a part of a small group involving adventure with no crowds. Daintree river cruise followed by a "safari" out to the beautiful Cassowary falls.
MORNING TOUR
- Cassowary Falls for a swim
- Daintree Croc Cruise
- Devonshire Morning Tea


FAMILY SPECIAL RATE


Travel between now and 31/March/2018





Quicksilver Outer Reef combines an unforgettable Outer Reef cruise to Agincourt Ribbon Reef including a thrilling 10 minute Scenic Reef Flight
REEF FROM THE AIR!
- 10 MINUTE HELI FLIGHT
- SEMI SUB
- UNDERWATER OBSERVATORY
- SNORKELLING
- LUNCH

GREAT FUN!


Travel between now and 31/March/2018
We found 14 tours in the category
Viewing 1 to 14 of 14 tours
Page 1
Daintree Discovery Tours

Exclusive small group tour
Maximum 8 passengers
Mossman Gorge
Popularity

Service

Value

Overall

Based on 127 ratings
A day with
Daintree Discovery Tours
is like no other. Be a part of a small group of 8 maximum, involving adventure, no crowds and experienced interpretive guides. ...
more info
Sea Kayak Snapper Island

Snapper Island Sea Kayaking
Paddle and snorkel
Picnic Lunch provided
Popularity

Service

Value

Overall

Based on 1 ratings
Journey to
Snapper Island
, one of only a few Islands in this area accessible from the mainland by sea kayaks. This unique experience is limited to only a few people each year ...
more info
Billy Tea Bush Safaris

Cape Tribulation One Day Safari
Departs: Cairns/Port Douglas
4WD the "Bloomfield Track"
Popularity

Service

Value

Overall

Based on 213 ratings
Billy Tea Bush Safaris
is the longest established 4WD day tour operator to Cape Tribulation. Your naturalist guide will meet you at your accommodation at around 7am. The first 1/2 of the journey north is very scenic with beautiful ocean views in contrast with the lush farmland around Mossman....
more info
Daintree Rainforest Day Tour

Full Day Cape Tribulation Tour
Wildlife River Cruise
Canoeing on secluded waters
Popularity

Service

Value

Overall

Based on 1 ratings
BTS Tours offer a full day Daintree Rainforest Tour allowing guests to explore the different habitats that merge to create and sustain the unique tropical rainforest environment. Experienced guides invite you to discover the unique flora and wildlife of the Daintree Rainforest's wet tropic coastal lowlands and unveil the mysteries of its evolution and survival over millions of years. Stroll on the rainforest fringed beach, see exotic butterflies, swim in the crystal waters of a secluded natural rainforest waterhole, canoe along secluded waters....more info

Adventure Company Cape Trib

Cape Trib & Daintree Safari
1 hour Daintree River Cruise
Mossman Gorge & Wildlife Park
Popularity

Service

Value

Overall

Based on 157 ratings
Enjoy a day out exploring the rainforest, rivers and beaches of the Daintree and Cape Tribulation with the
Adventure Company
. Experience a personalised, relaxing day with fellow travellers who share a sense of adventure and a love of nature. ...
more info
Tropical Horizons

Cape Tribulation & Daintree Rainforest
Mossman Gorge | Port Douglas
Daintree River Cruise | Cape Trib
Popularity

Service

Value

Overall

Based on 80 ratings
Enjoy the ultimate rainforest experience with
Tropical Horizons
. Visit beautiful Cape Tribulation - Enjoy the ultimate rainforest tours experience - to view World Heritage Listed Rainforests at their best at both the Mossman Gorge and Gateway Centre* and Cape Tribulation beach and Kulki Lookout in the Daintree National Park!...
more info
Daintree & Jungle Surfing

Jungle Surfing, Daintree & Cape Tribulation
Daintree & Cape Tribulation
Jungle Surfing
Popularity

Service

Value

Overall

Based on 4 ratings
Daintree Adventure Day ( With Jungle Surfing ) Experience the oldest rainforest "the Daintree" from below and above with Jungle Canopy Surfing.
...
more info
Daintree & Jungle Surfing -TW

Daintree Experience & Jungle Surfing
Wildlife Habitat | Jungle Surfing
Daintree River Cruise
Popularity

Service

Value

Overall

Based on 5 ratings
Cape Tribulation and Daintree with Jungle Surfing
is a unique and exhilarating way to experience the beauty of the world-renowned Daintree Rainforest – a fun, educational, fully-guided, all-weather activity where your feet don't touch the ground. Fly through the trees on flying fox ziplines, stopping at five platforms with bird's eye views over the treetops, down to cascading streams and out to the Great Barrier Reef....
more info
Cape Trib & Daintree - TW

Guaranteed wildlife spotting
Wildlife Habitat
Daintree River Cruise
Popularity

Service

Value

Overall

Based on 11 ratings
Cape Trib & Daintree:
Cape Tribulation is located within the Daintree National Park and is renowned as "where the oldest rainforest in the world meets the Great Barrier Reef". Travel to this Wet Tropics World Heritage area in small, personalised groups, with guided walks and guaranteed wildlife spotting....
more info
Departs Port Douglas daily

Cape Trib and Daintree Rainforest
Cooper Creek Wilderness Cruise
Mossman Gorge
Popularity

Service

Value

Overall

Based on 10 ratings
Daintree Rainforest and Cape Tribulation:
The ultimate in touring Far North Queensland, Daintree Tours deliver the finer places of the Daintree Rainforest, Cape Tribulation and Mossman Gorge....
more info
Jungle Surfing Express

Quick trip to the rainforest
Jungle Surfing
Half day option
Jungle Express with Jungle Surfing is a tour designed for those who may have limited time to explore the rainforest. Fly through the trees on flying fox ziplines. ...more info

3 Day Cooktown, Daintree and Outback Tour

Small group tour, Naturalist guide
Historical Cooktown & Daintree
Accom and meals included
Popularity

Service

Value

Overall

Based on 1 ratings
3 day Cooktown, Daintree & Outback:
This very small group tour takes you on an exclusive guided 4WD tour to the Daintree National Park, Cooktown, and the Atherton Tablelands. This tour ticks all the boxes in terms of showing people the best of Far North Queensland!...
more info
Ocean Safari

Pristine half day eco tour
Visit 2 snorkel destinations
Maximum 25 passengers
Popularity

Service

Value

Overall

Based on 11 ratings
Join
Ocean Safari
for an exhilirating ride to snorkel the pristine untouched reefs off the Daintree Coast at Cape Tribulation. Visit two different snorkel destinations such as Mackay and Undine Reefs for an extraodinary array of marine life and coral species...
more info
The Backyard of Region

The Backyard of Region
Fly over Mossman Gorge
Scenic Flight over Daintree River
The Backyard of Our Region : Cairns to Cape Tribulation, where the Reef meets the Rainforest. Highlights of this tour include: Daintree National Park, Mossman Gorge, the Daintree River, Cape Tribulation, Port Douglas and Cairns.
...
more info
Viewing 1 to 14 of 14 tours
Page 1
Daintree & Cape Tribulation

The Daintree & Cape Tribulation region encompasses the area between Mossman Gorge and the Bloomfield River. It is the largest continuous stretch of tropical rainforest on the Australian continent and one of the oldest intact tropical rainforests in the world, dating back to Gondwanan times. Along the coastline north of the Daintree River you will find long sandy beaches, rocky headlands and steep mountain ranges intersected by numerous creeks and rivers, and tropical rainforest that grows right down to the edge of the sea. A visit to this area gives you a rare chance to experience two of Australia's most significant World Heritage sites side by side — the Great Barrier Reef and the Wet Tropics World Heritage Rainforest. Both are valued for their exceptional biological diversity. Most of the world's 19 primitive plant families are found in Daintree National Park and the surrounding area. The Daintree is also home to a large number of endemic animals — those found nowhere else in the world, including the southern cassowary, a fascinating bird that is large, flightless and extremely important to the health and regeneration of the rainforest. This Daintree National Park is truly worth a visit for the culture, diversity and exceptional natural beauty.
Mossman Gorge

Mossman Gorge is located in the southern part of Daintree National Park, about five kilometres from the cane-farming town of Mossman. The gorge attracts visitors from far and wide who come to marvel at the outstanding natural beauty. The rainforest is prolific with wildlife, many endemic to the region, including unique green possums, ringtail possums, fierce marsupial cats, rare bats, and tree kangaroos and the rare antechinus. Butterflies are among the most commonly seen animals. Look for the brilliant, metallic-blue Ulysses butterfly and the striking black and green male Cairns birdwing butterflies along the walking tracks and near the river. Brush-turkeys are commonly seen scratching for food on the forest floor, meanwhile the trees in the gorge play host to the "Boyd Forest Dragon". Often seen basking in the sun, this quiet creature is a chameleon and can change its colour to blend in. Access to the Mossman Gorge day-use area is via an eco shuttle bus from the Mossman Gorge Centre. They depart every 15 minutes (charges apply), between 8.00am and 6.00pm daily. Taking you into the heart of Mossman Gorge you can then experience the lush surrounds, rainforest walks, picnicing and swimming in one of the many water holes.
KuKu Yalanji Dreamtime Walk

The Eastern Kuku Yalanji Aboriginal people are the Traditional Owners of the Daintree National Park. While their tribal borders extend from Port Douglas in the south, to Cooktown in the north and Palmer River in the west, the Kuku Yalanji are mainly concentrated around the Mossman River area which is of particular spiritual significance to the tribe.
The Kuku Yalanji culture is built around a deep respect for nature and an intimate knowledge of its cycles. They are deeply connected to the lands and waters of the Wet Tropics region, living in complete harmony with their environment. The Kuku Yalanji are active participants in ecotourism, as custodians of a wealth of rainforest knowledge they have developed the Ngadiku Dreamtime Walks to share their knowledge, history and stories to protect their land for future generations.
The Mossman Gorge walks are conducted with a local indigenous guide who will share stories of the Kuku Yalanji culture and traditions as you journey along private rainforest tracks, visiting special places and culturally significant sites. Here your guide will demonstrate traditional plant use while identifying local bush tucker sources. Surprising plants include the sticky bean, whose sap is used to trap birds by gumming up their feathers; the milky pine with sap that drugs freshwater fish; the thorny vines of
wait-a-whiles, which, placed across a track, make a simple pig trap; the candlenut tree, which has sap that cures fungal diseases and oily nuts that burn slowly to provide light.
Find out more:
Daintree Walkabout - Explore ancient rainforests and Aboriginal culture
Daintree River

The Daintree River is 120km long and home to a dazzling array of tropical life including Estuarine Crocodiles, endemic birds to the region, frogs, pythons, tree snakes, butterflies and insects, some of these are rare and only found in this area. The river winds through thick mangrove swamps where the water remains very salty. As it progresses through the rainforest, the water turns fresh and this is where it merges with the World Heritage Rainforest of the Daintree Region. The river is surrounded by mountains and deep valleys. The best way to really appreciate this significant wilderness area is onboard a Daintree River Cruise. Cruises are provided in a small vessel which enables an intimate exploration of the river banks and wildlife in the trees and sky above. The River guides are local well informed naturalists and biologists and also keen bird watchers. There are a number of river cruise operators who depart from various locations along the banks of the Daintree River. Due to the river's isolation and legislation, saltwater crocodiles have flourished in recent years, so it is important not to step close to the riverbank, or stay within the confines of boats, and absolutely never swim in the river.
Find out more:
Daintree Wonder Tours
Trek North Cape Tribulation
Daintree Discovery Tours
Daintree Ferry

The Daintree ferry is the gateway to the Daintree Coast. The north and south banks of the Daintree River are linked by the Daintree Ferry which operates on a cable system, capable of taking up to 16 vehicles across the river at a time. This is the only cable ferry operating in a World Heritage area in the world. It makes continuous crossings of the Daintree River throughout the day, averaging more than 100 crossings a day, and travelling over 10,000km each year along the wire rope. Crossings takes about 5 minutes and a fee is payable to use the ferry service prior to boarding. The ferry operates 6.00am until midnight every day with a reduced service on Christmas Day. After crossing the Daintree Ferry you will travel through lowland and tropical rainforest passing road junctions for Cape Kimberley and Cow Bay.
Daintree Village

The Daintree Village is located on the southern banks of the Daintree River, about 12 km past the turnoff to the Daintree ferry, and has an interesting history going back to early pioneer days. Originally a settlement created in the 1870's by timber-cutters who came to log the red cedar which once flourished in the area, today the lifeblood of this laid-back little township lies in low-impact tourism, sustainable cattle and tropical fruit-farming in the beautiful valleys beyond. The Village hosts a number of restaurants, galleries and shops selling local arts and craft, and from here you can hop on a scenic river cruise and explore the unique bird and wildlife along the Daintree River.
Find out more:
Daintree & Cassowary Falls
Daintree Wonder Tours
Alexandra Lookout

Mount Alexandra Lookout, or Walu Wugirriga ("look about"), is situated about 5 km north of the Daintree River, and provides breathtaking views of the coast including Cape Kimberley, the Daintree River mouth, Snapper Island and Low Isles in the distance. On a clear day you can even see as far as Double Island near Palm Cove. It is an ideal spot for those postcard photo opportunities.
Find out more:
Tropical Horizons - Daintree & Cape Tribulation
Billy Tea Bush Safaris
The Adventure Company - Cape Trib Safari
Daintree Tea

Just past Cow Bay is the Daintree Tea Company situated on the Cubbagudta Plantation. The name Cubbagudta means "Rainy place" in the language of the local Kuku Yulangi Aboriginal people. Rainy place is significant of this wet region which makes perfect conditions for growing quality tea. With a high rainfall of around 4 metres per annum and a temperature range of 25 to 35 degrees, along with granite alluvial red soils, these assets all combine to make the perfect growing environment for this unique tasting tea. Cultivated as mother nature intended, without the use of any pesticides, Daintree Tea is pleasantly mild with an earthy taste that reflects this beautiful growing environment.
Daintree Icecream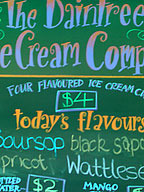 The Daintree Icecream Company is well worth a stop to reward yourself after a day of sightseeing in the Daintree Rainforest. This boutique ice creamery is renowned for its homemade tropical fruit ice cream made with the fruits from their own orchard. Flavours vary according to the season which include Black Sapote, Soursop, Wattle Seed, Mango, Passionfruit and Jackfruit. All the ice creams are made on the premises and only fruit in season is used. You can walk around the orchard and discover over 20 varieties of tropical fruit trees that bear the flavours for the ice-cream.
Find out more:
Daintree Discovery Tours
Daintree Tours
Daintree Discovery Centre

The Daintree Discovery Centre is an award-winning world class interpretive facility that allows visitors easy access to every level of the Daintree Rainforest; from the forest floor to the upper most reaches of the canopy. The Centre features Boardwalk tours, a 23 metre high Canopy Tower, Aerial Walkway and comprehensive Display Centre. It provides an excellent introduction to the wonders of the Daintree Rainforest. The Canopy Tower comprises five different viewing platforms allowing visitors of all ages to access the various levels of the rainforest – from the forest floor to the upper most reaches of the canopy. The Aerial Walkway allows access to the mid-level rainforest and offers stunning views over McLean's Creek. The walkway also allows for wheelchair access to both the Interpretive Display Centre and the base of the Tower.
Find out more:
Daintree Discovery Centre
Daintree Entomological Museum

If your curious about the strange bugs and butterflies of the world, this is the place to visit, they're all here! The Daintree Entomological Museum and Gallery established in 2003, and houses one of the worlds best private Butterfly and Beetle collections. This beautifully displayed collection of Australian and Worldwide insects has been collected and bred, by one man, Stephen Paul Lamond. It has taken over 40 years to establish this world renowned display. The buildings and cabinets have been designed and handcrafted by Stephen which he now exhibits his life's long work including his personal artwork, breeding houses, live insects, and new local discoveries in the heart of the Daintree Rainforest.
Find out more:
Trek North - Cape Tribulation
Jungle Canopy Surfing

Jungle Surfing is a unique eco-adventure where your feet don't touch the ground! Fly through the trees on flying fox ziplines, stopping at five tree platforms taking in spectacular bird's eye views over the treetops. A guide will greet you, connect you safely to the tree, and introduce you to different elements of the forest before sending you on your way to the next platform. This fun, educational, all weather experience is suitable for all ages from 3 to 103. This is certainly a unique way to see the rainforest up close.
Find out more:
Daintree Adventure & Jungle Surfing
Wildlife & Jungle Surfing
Get Active in Cape Tribulation - Overnight Package
Cape Tribulation

Cape Tribulation was named by British navigator Lieutenant James Cook on 10 June 1770, due to the trials and tribulations he encountered whilst navigating his ship through the reefs in the area. Cape Tribulation has become a small tourist destination in itself with a number of backpacker and eco-lodge accommodation in the area plus facilities such as a cafe/restaurant, local store and pharmacy. Attractions include The Bat House, Exotic Tropical Fruit Farm, Cape Trib Beach and a number of touring options that depart from here such as horseriding, sea kayaking and reef trips.
Cape Tribulation Beach

The best part of the Cape Tribulation experience is the beaches. Most of the beaches in the Daintree region are untouched with golden sand, fringing reef and rugged rainforest that frames the coastline. Cape Tribulation Beach is a popular spot for visitors and the view says it all... A short 10 minute walk up to the headland opens up a breathtaking view of rainforest clad mountains which literally roll down to meet with the fringing reef. Cape Tribulation Beach has toilets and picnic tables, keep a watch out for Lace monitors (goannas) as they are often seen patrolling for food scraps.
Find out more:
Daintree Wonder Tours - Be the first at the beach!
Daintree Discovery Tours - Exclusive small group tour
Billy Tea Bush Safaris - Go further than the other tours


Bloomfield Track

The section between Cape Tribulation and the Bloomfield River is a four-wheel-drive track called 'The Bloomfield Track'. This is is one of Australia's most scenic and challenging drives. Travelling through the heart of the Wet Tropics, the drive features waterfalls, creek crossings, rainforest-clad ranges and stunning views. The road is only partially sealed with very steep ranges and natural creek crossings, and as such, can become impassable after heavy rain. Motorists are strongly advised to check weather conditions beforehand. Steeped in history and controversy, the Bloomfield Track was at the height of protests in 1982 when the Douglas Shire Council began construction to open the road and gravel it. Protesters tried to stop the road, leading to several arrests. In spite of almost no local support, the road was built in a matter of weeks. Although conservationists lost in their efforts to stop the road to Bloomfield their efforts served to bring attention to the Daintree rainforests which influenced ploitical thinking and the decision for World Heritage listing.
Find out more:
Bloomfield Track tour
Billy Tea Bush Safaris - visiting Emmergen Creek


Rainforest Walks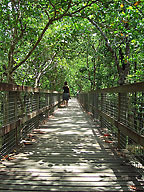 There are plenty of walks in the Daintree - Cape Tribulation area where you can submerge yourself in rainforest. No matter your level of fitness or mobility, young or old, experienced hikers or casual strollers, there are walks to accommodate all. Simple walks include Kulki - Cape Tribulation Beach Lookout (10mins), Marrdja Botanical Walk (45 mins), Jindalba boardwalk (45 mins) and Dubuji Boardwalk (45mins), or for the more experienced hikers Jindalba circuit track (1.5 hrs), Emmagen Creek & Beach (5 hours) and Mt Sorrow Ridge Walk (6 hours).
---
Jindalba boardwalk—650 m return (45 mins) Grade: easy
The Jindalba (meaning 'foot of the mountain') boardwalk explores tropical lowland rainforest. Quiet walkers may be lucky enough to see a tree-kangaroo or cassowary. There is a large picnic area with toilets and tables. Wheelchair access to the creek is from the exit end only, near the disability access parking bays.
Jindalba circuit track—3 km return (1.5 hrs) Grade: moderate
Near the entrance of the Jindalba boardwalk is the start of the Jindalba circuit track. This forest walk is well marked but is stony in places and crosses rainforest creeks. A reasonable level of fitness is required.
Marrja boardwalk—1.2 km loop (45 mins) Grade: easy
The Marrja (meaning 'rainforest' or 'jungle') boardwalk allows visitors to experience both rainforest and mangrove communities, without getting muddy. Along the walk learn about the plants found in each of these environments. There are no toilets or picnic areas at this site.
Dubuji boardwalk—1.2 km loop (45 mins) Grade: easy
The Dubuji (meaning 'place of spirits') boardwalk travels through lowland rainforest swamps and mangroves. Signs explain the survival strategies used by rainforest plants and animals. The site is close to Myall Beach and has large grassed areas with picnic shelters and toilets.
Kulki—600 m return (10 mins) Grade: easy
Kulki day-use area has a boardwalk leading from the picnic area to a viewing platform overlooking the ocean and beach. A short walk from the Kulki car park takes you to beautiful Myall Beach. Toilets and picnic tables are provided.
Mount Sorrow ridge trail—7 km return (6-7 hrs) Grade: difficult
This is a steep and difficult trail and walkers need to be fit, self-reliant and well-prepared. The trail climbs from the coastal lowlands of Cape Tribulation, up the rainforest-clad ridge of Mount Sorrow to a lookout offering views of the beautiful Daintree coastline, Snapper Island and beyond.
Whats Hot!
Travel Tools
Whats Hot!