Tour Specials!





Book a Sailaway Low Isles Afternoon Departure 1pm Afternoon departure 3 hrs at Low Isles Snorkelling Glass bottom boat Departs Island at 5pm Canape's & drink
Tropical.. Scenic.. Perfect!
Return hotel transfers, freshly brewed coffee, scones, jam & cream, Sundowner and Canapes

Living the dream!


Travel between now and 31/March/2019





Silversonic Explore 3 outer edge reef locations at Agincourt Ribbon Reef in superb style and comfort. Enjoy over 5 hours exploring the delights of this underwater world.
REEF ADVENTURE!
- Swim with Whales (if encountered)
- Ultra modern Catamaran
- Fastest vessel to the reef
- Super smooth
- 3 of the best reef locations
- 5 hours of actual reef time
- Permit to swim with whales

Silversonic has one of very few permits allowing you to swim with Minke Whales if they are encountered.
Travel between now and 31/March/2019





Mountain biking at Cape Tribulation is a fun and active way to explore the tropical rainforest. There are plenty of mountain streams to stop, cool off and refresh yourself
You'll get sweaty!
- You'll get dirty!
- You may even get wet!
- But you'll also get hooked!
- All Safety gear is provided

***Min age is 12yrs***
Travel between now and 31/March/2019





Quicksilver Outer Reef combines an unforgettable Outer Reef cruise to Agincourt Ribbon Reef including a thrilling 10 minute Scenic Reef Flight
REEF FROM THE AIR!
- 10 minute Helicopter Flight
- Semi-Submarine
- Underwater Observatory
- Snorkelling
- Lunch

GREAT FUN!


Travel between now and 31/March/2019





Barron River Rafting 2 hours of rafting Grade 3 rapids in the Barron Gorge National Park. All tuition provided.
4 People or more special
- Port Douglas hotel transfers
- Pick-up 1:15 pm
- Return 6:30 pm


- Includes National Park Fees
Travel between now and 31/March/2019
Half Day

If you're wanting to take it easy or have limted time and are looking at maximising your range of experiences then half day tours are the way to go. There are many activities that can be taken in half a day, even better combine two of your selected activities into a full day combo adventure!
Hot Air Ballooning

For early risers hot air ballooning is a must. Gently float over the Atherton Tablelands plateaux at sunrise. Spot the awakening wildlife, a roo or two, and take in the spectacular panoramic views of the rainforest mountains, fertile soils, dry bushland and outback. Departing daily from Port Douglas, your Hot Air balloon experience commences with a 50 minute coach transfer to the west of the Great Barrier Reef, on the high plateaux of the Atherton Tablelands. Watch the balloons inflate before taking off for a 30 minute flight over the picturesque Tableland landscape at sunrise - a perfect way to start your day. Optionally for a more exclusive experience why not upgrade to a Luxury Balloon Flight and enjoy a private transfer with personal chauffeur, followed by a 60 minute balloon flight and returning to a five star beachfront resort for breakfast - simply magic!
Find out more:
Hot Air Ballooning & Luxury Balloon Flights
Sunset Sailing

Sunset Sailing has become a popular activity in Port Douglas, and its no wonder when you look at the spectacular backdrop that surrounds this stunning destination. Watch the sunset over the mountains of the Daintree Rainforest and indulge in pure relaxation as you gently sail through the Dickson Inlet of Port Douglas and out over the Coral Sea. A 1.5 hour sunset cruise includes a complimentary glass of champagne, wine or beer and a selection of canapés. Alternatively take a calm water sunset cruise along the Daintree River. Join Andy for a personalised 2 hour Sunset cruise where you can sit back and enjoy the commentary or take photos of the wild beauty of the Daintree Rainforest. This cruise is ideal for bird lovers as the evening departure is timed to coincide with peak bird activity and to give the photographers the best natural light. Daintree River Experience cruises are longer than most - 2hrs - allowing time to explore one or more of the Daintree River's beautiful tributaries to maximize your chances of seeing the more elusive species.
Find out more:
Sailaway Sunset Sail
Aquarius - Twilight Sail
Daintree River Experience
Adventure Activities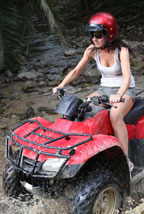 For those adventure seekers we have a variety of activities to provide thrills, spills and a lot of outdoor fun! Just like in the real bush way out West, Daintree Stations Jungle Rumble Quad Bike Adventure has been inspired from long term experience working on North Queensland Cattle Stations. Zoom along old logging rainforest tracks with exciting water crossings, open plains, and hill climbs. Quad Biking is a must do for the adrenaline junkie and makes for a fantastic wet weather option - be warned though, it can get a tad muddy if you have really serious fun!
Horse riding enthusiasts will love the spectacular scenery that goes hand in hand with a horseriding experience in Far North Queensland. Join a small personalised ride through the Daintree Rainforest and surrounding property, following rainforest trails and water crossings. Suitable for all riders, beginners to advanced. Pony rides are available for children under six years.
Jungle Canopy Surfing is a unique and exhilarating way to fully experience the heart of the Daintree Rainforest, from the bustling forest floor to the lush canopy above. Comprising of a system of platforms and cables, you can fly through the trees on flying fox ziplines that take you from tree to tree with bird's eye views over the treetops, and down to cascading streams.
The Barron River is the perfect option for those looking for an afternoon of fun and adventure, and ideal in the summer months when in need of a bit of cooling off! The Grade 3 Barron River Half Day Tour is perfect for ages 13 to 99, and all fitness levels. With breath-taking scenery and rapids, Barron Rafting is one of the most fun and exciting ways to discover the pristine rainforest of Tropical North Queensland. Barron Family Rafting is also available and provides a great introduction to white water rafting for children 6 - 11 years.
Find out more:
ATV Quad Biking Adventure in the Daintree Rainforest
Half Day Horseride
Jungle Canopy Surfing Express - Cape Tribulation
White Water Rafting on the Barron River
Attractions

Whether its culture, rainforest or wildlife we have some delightful attractions that make for a lovely morning or afternoon out. The Wildlife Habitat is conveniently located in Port Douglas. Simply hop on a local shuttle bus from your resort and join either Breakfast with the Birds or Lunch with the Lorikeets, it makes for a fabulous and entertaining day out for everyone. Immerse yourself in the surroundings and interact with the birds and wildlife up close. The breakfast and lunch is certainly a highlight of the experience as you dine amongst a cacophony of sounds and colours of the birds, whilst they fly and roam freely amongst the tables.
Hartley's Crocodile Adventures is located approx a 25 minute drive south of Port Douglas. This wildlife attraction is home to a range of habitat types including melaleuca wetlands, riverine rainforest and eucalypt woodland. Wildlife shows are conducted daily featuring snakes, birds, cassowaries, koalas, quolls and the highlight of the day the 'Crocodile Attack Show'. No Australian wildlife park is complete without Koalas. These are Australia's great wildlife ambassadors and a favourite with visitors worldwide. They spend most of the day fast asleep until 4:30pm when it is feed time. Hartley's is open from 8:30am until 5:00pm daily.
Mossman Gorge Gateway Centre lies 20km north of Port Douglas and approx 2 km from the township of Mossman. Centre is a new Indigenous eco tourism development that features a contemporary café, art gallery, gift shop and tour desk. Staffed by local residents, it offers the opportunity to learn about the rich cultural heritage that links the people of the region to the land. The art gallery and shop showcase the art and design of the local Kuku Yalanji people and leading Indigenous artists from across Far North Queensland. The cafe offers a taste of culture with light snacks and refreshments, through to delicious meals that use predominantly locally sourced produce infused with Indigenous bush ingredients. An eco shuttle bus service departs every 10 minutes transporting visitors into the heart of Mossman Gorge for a small fee. This service was developed to reduce the high amount of tourist traffic entering the gorge, and to ensure the protection of this significant landmark for future generations.
Find out more:
Wildlife Habitat - Breakfast with the Birds
Wildlife Habitat - Lunch with the Lorikeets
Hartley's Crocodile Adventures


Rainforest

The Daintree Rainforest is an area of outstanding natural beauty and a must see no matter how much time you have on your hands, it's well worth a visit. You can take in the wild beauty of the Daintree Rainforest from the spectacular and tranquil Daintree River or choose to do a bushwalking tour. Daintree River Experience offers personalised Sunrise and Sunset tours on the Daintree River. Perfect for photographers and those who are into birdwatching as the morning and evening departures are timed to coincide with peak bird activity and to give the photographers the best light. This is a perfect way to relax with a small group and take in the wonders of the Daintree Rainforest on the tranquil Daintree River.
River Drift Snorkelling offers another great way to experience the rainforest from a unique perspective - floating down the Mossman River. An amazing "Eco-Immersion" Adventure, this trip will guide you through the most beautiful, crystal clear rainforest imaginable, as you drift snorkel down with the current. Sometimes it is fast and exciting, other times slow and relaxing. Safe, fun and very relaxing, this trip is suitable for all ages in the dry season and strong swimmers in the wet.
Need something different to do in the afternoon? Once you arrive in Port Douglas, join the Half Day Mossman Dicovery tour. This is a great way to spend the afternoon - exploring our beautiful surrounding rainforest. This popular half day rainforest trip combines a Daintree River Cruise followed by a visit to the pristine Mossman Gorge. Your informative guide will take you on a fully guided tour along Mossman Gorge where you will have the opportunity to learn about the special rainforest plants and their uses by the Kuku Yalanji people for food, medicine and materials.
Find out more:
Daintree River Experience
Mossman & Daintree River
River Drift Snorkelling
Whats Hot!
Travel Tools
Whats Hot!