Tour Specials!





Book a Sailaway Low Isles Afternoon Departure 1pm Afternoon departure 3 hrs at Low Isles Snorkelling Glass bottom boat Departs Island at 5pm Canape's & drink
Tropical.. Scenic.. Perfect!
Return hotel transfers, freshly brewed coffee, scones, jam & cream, Sundowner and Canapes

Living the dream!


Travel between now and 31/March/2019





Silversonic Explore 3 outer edge reef locations at Agincourt Ribbon Reef in superb style and comfort. Enjoy over 5 hours exploring the delights of this underwater world.
REEF ADVENTURE!
- Swim with Whales (if encountered)
- Ultra modern Catamaran
- Fastest vessel to the reef
- Super smooth
- 3 of the best reef locations
- 5 hours of actual reef time
- Permit to swim with whales

Silversonic has one of very few permits allowing you to swim with Minke Whales if they are encountered.
Travel between now and 31/March/2019





Barron River Rafting 2 hours of rafting Grade 3 rapids in the Barron Gorge National Park. All tuition provided.
4 People or more special
- Port Douglas hotel transfers
- Pick-up 1:15 pm
- Return 6:30 pm


- Includes National Park Fees
Travel between now and 31/March/2019





Quicksilver Outer Reef combines an unforgettable Outer Reef cruise to Agincourt Ribbon Reef including a thrilling 10 minute Scenic Reef Flight
REEF FROM THE AIR!
- 10 minute Helicopter Flight
- Semi-Submarine
- Underwater Observatory
- Snorkelling
- Lunch

GREAT FUN!


Travel between now and 31/March/2019





Mountain biking at Cape Tribulation is a fun and active way to explore the tropical rainforest. There are plenty of mountain streams to stop, cool off and refresh yourself
You'll get sweaty!
- You'll get dirty!
- You may even get wet!
- But you'll also get hooked!
- All Safety gear is provided

***Min age is 12yrs***
Travel between now and 31/March/2019
We found 8 tours in the category
Viewing 1 to 8 of 8 tours
Page 1
Scenic Heli Flights ex PD

Scenic Helicopter Flights
Inspiring sights of Reef & Rainforest
Exhilerating experience in short time
Popularity

Service

Value

Overall

Based on 2 ratings
GBR Helicopters guarantee the most exhilarating and unique way of experiencing a birds eye view of Tropical North Queensland's spectacular icons. To really appreciate the untouched beauty that is World Heritage protected, you must see it from the air.
...
more info
Sandy Cay Brunch - Romantic!

Private Sandy Cay Brunch
Private tropical paradise
Relax, Swim, Snorkel, Indulge
Popularity

Service

Value

Overall

Based on 1 ratings
Solitary Sand Cay -
Your very own desert island in the middle of the Great Barrier Reef. Perfect for marriage proposals, anniversaries or a very special treat because life is for living!...
more info
Quicksilver Helicopters

Ultimate Scenic Heli & Agincourt Reef
Magnificent Heli Flight
Coral Viewing & Snorkelling
Popularity

Service

Value

Overall

Based on 8 ratings
Experience nature's finest from the air with
Quicksilver Helicopters
. Be exhilarated as you fly over the vivid blue waters of the Great Barrier Reef. Agincourt Reef is consistently showing the best clarity and you will experience superb coral gardens on this spectacular reef. ...
more info
Hot Air Ballooning

Magnificent Hot Air Ballooning
Souvenir flight certificate
Spectacular Tablelands Scenery
Popularity

Service

Value

Overall

Based on 51 ratings
Raging Thunder
will take you up on a magical and exhilarating flight of your life in the world's largest commercial hot air balloon. The Atherton tablelands provide the perfect conditions for Hot Air Ballooning and the view from your basket. This tour departs your Cairns hotel at 4:30am and returns at 9:30am. Ideal morning tour for departure day...
more info
Ultimate Romantic Day!

Hot Air Balloon & pretty Low Isles
Spectacular morning Balloon flight
Glass bottom boat, Turtle Haven
Ultimate Romantic Ballooning & Low Isles in one day!
Combine the romance of sailing to idyllic Low Isles on the Great Barrier Reef with the romance of hot air ballooning over the picturesque Atherton Tablelands! Return hotel transfers from Cairns & Port Douglas.....
more info
Hot Air & Quicksilver

1 Amazing day Ballooning & Quicksilver
30 Minute Hot Air Balloon Flight
Quicksilver Outer Reef Pontoon
Popularity

Service

Value

Overall

Based on 1 ratings
Ballooning & Quicksilver Outer Reef Experience:
For two spectacular "must do" experiences all in one amazing day, marvel in the romance of hot air ballooning then continue your adventure as you cruise to the edge of Australia's Continental Shelf to Agincourt Reef with Quicksilver, Australia's most awarded Reef Cruise......
more info
Daintree Scenic Flight

Fly over Mossman & Daintree
Fly over Mossman Gorge
Scenic Flight over Daintree River
Cairns to Cape Tribulation
, where the Reef meets the Rainforest. Highlights of this tour include: Daintree National Park, Mossman Gorge, the Daintree River, Cape Tribulation, Port Douglas and Cairns. ...
more info
The Colours of North Queensland

The Colours of North Queensland
Rainforest & Waterfall Views
Undara Volcanic National Park
Colours of North Queensland : Fly the colour spectrum of North Queensland and experience the many landscapes the region has to offer. Departs from Cairns. Highlights include: Johnston River Gorge, Undara Volcanic National Park, Blencoe Falls, Wallamin Falls, Hinchinbrook Island, Great Barrier Reef and Cairns.
...
more info
Viewing 1 to 8 of 8 tours
Page 1
Hot Air Ballooning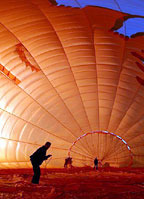 Did you know, the Atherton Tablelands, Queensland, is the most popular place in Australia to float in a hot air balloon? Located west to south-south-west inland from Cairns, the Atherton Tablelands elevated position provides ideal weather and climate
conditions for this gentle activity. With 98% tour reliability, this statistic is unmatched anywhere in the world within the Ballooning industry.
Take Off
Balloon flights take place at dawn as this is the best time of the day for optimum weather conditions to launch the balloons. The take off location is selected on the day according to the wind directions around the district at the time. Hot Air has access to a range of private properties spread over the Atherton Tablelands which they can use as launch sites, this adds to the thrill and excitement of the day, as it's always a suprise where the ballooning will commence. Balloon inflation takes place here, and depending on many operational factors, passengers may be on the ground during inflation or in the balloon when the sun is rising. Either way, the Australian sky during the first hour of light is always amazing.
The Flight
The flight is very gentle and stable as you start from the ground and gently lift up. You will instantly see some amazing patterns and images from the farming landscapes below. Views range from the dark greens of the rainforest peaked mountains to the east that form part of the Great Dividing Range, to the dusty reds and oranges of the Outback towards the western fringes of the plateau. With an area of approximately 32,000 km² and a ranging altitude of between 500 and 1,280 m (1,600 and 4,200 ft), the views from a hot air balloon flight are just spectacular.
A typical hot air balloon flight ranges anywhere from tree level to approximately 3,000 ft. As you glide over this picturesque landscape you'll see and hear Australian wildlife such as wallabies and birds as they awaken. Look for wallabies and other wildlife that are often seen in the bushland surrounding creeks. When the burner is off, it is completely quiet so it's easy to hear sounds drifting up from below you. Kangaroos are a common sight, and it is not unknown to sight the odd snake sliding into the grass off the warmth of a rock in the early morning sunlight. With no noise in a hot air balloon, you may descend over wildlife or stock without even being noticed, and get amazingly close. The balloon travels with the wind anywhere from 5 to 30 kilometres, so landing is always a thrill as it is never known where the balloon may descend. The hot air balloon bus is in constant contact with the pilot, playing chase to the balloon to plot a suitable landing position. Packing up the balloon is all part of the experience and teamwork is a must!
Departures
Hot Air Balloon flights operate daily providing weather conditions are suitable. Coach transfers are available from your Port Douglas accommodation departing at approx 5:00am and returning at approx 9:30am. Alternatively it is possible to self drive to Mareeba and connect with the Hot Air Balloon bus in Mareeba, this will allow you to enjoy the rest of the day after your balloon flight exploring all the Tablelands has to offer. Hot Air is an industry professional ensuring a high level of service, state-of-the-art equipment and product quality to deliver one of the very best Hot Air Ballooning experiences in Australia.
Find out more:
Hot Air Ballooning - Atherton Tablelands
Whats Hot!
Travel Tools
Whats Hot!