Hot Air Ballooning Info
30 MINUTE TABLELANDS BALLOON FLIGHT
Raging Thunder will take you up on a magical and exhilarating balloon flight at dawn over the Atherton Tablelands.
The giant balloons accommodate up to 20 people, and glide gently over the bushlands & farms of the Mareeba Valley.

The Atherton Tablelands provide the perfect conditions for hot air ballooning and the view from your basket of rolling hills and winding streams is stunning.
You will arrive just in time to see the balloons beings inflated. As the sun rises your pilots gently lift off and quietly glide the balloons over the panorama of the Cairns Highlands.
Departures: (Daily)
Pick-up from Cairns or Northern Beaches (Trinity Beach, Palm Cove) accommodation at approx. 4:15am
Pick-up from Port Douglas accommodation at approx. 3:50am
Approximately 90-minute drive to the flight site.
Return to your hotel at approx 10:15am.
Express Flight is designed for people who must return to Cairns as quickly as possible after the balloon flight, so they can meet other tours. As soon as their flight ends, board a separate coach for transfer back to Cairns arriving 8:30am.
Self Drive - Meet at Mareeba Heritage Museum - June to August at 5:20am, September to May at 4:45am.
INCLUSIONS:
Scenic 30 minute Tablelands Balloon Flight

Cross Country Balloon Chase aboard coach

Balloon Flight Certificate

Help pack up the giant balloon

Return hotel transfers

Aviation levy
60 Minute Balloon Flight: Your one hour total flight time will be either 2 x 30 Minute scenic flights one after the other OR 1 x single 60 minute flight.
Additional Costs:
A light Breakfast (muffins, danishes, tea & coffee etc) is available for purchase at the Mareeba Heritage Museum at an additional cost.

Also exclusive to Raging Thunder are their in-flight digital photo technology. The opportunity to have your photo taken whilst in-flight, high above the Atherton Tablelands in one of the majestic balloons is a moment to be treasured forever.
WHAT TO BRING:
Warm clothes in the winter months, but do not wear light coloured clothing as it is easily stained by the red volcanic soil
Bottle of water and a snack
Camera or Video Camera
Hat, sunglasses and comfortable shoes (no high heels)
PLEASE NOTE:
Not suitable for children under 4yrs
Not suitable for pregnant woman
It is a CASA (Civil Aviation Safety Authority) requirement that all passengers be able to climb in and out of the basket unassisted.
GREAT NEWS! All payments made to Travstar do not incur a credit card surcharge.

Hot Air Ballooning Packages
Balloon, Tully Raft, Passions Reef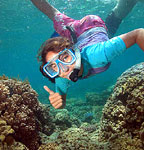 30 MINUTE SCENIC BALLOON FLIGHT
BREATHTAKING SCENERY
TULLY RIVER RAFTING
GRADE 4 RAPIDS
2 UNIQUE REEF LOCATIONS

BASED ON
1 ADULT
Hot Air Ballooning Guest Reviews (14)

Monday, May 15, 2017
My 4 year old and I loved it. Staff were great and professional. Would happily recommend them.

Monday, January 09, 2017
Kenji was great.

Tuesday, August 16, 2011
We had a wonderful time! What an adventure. Pilot was very knowledgable of what he was doing.
Read all reviews

Tuesday, May 03, 2011
A balloon flight is one of the activities you have to put on your list 100 things to do before your time is up.
The silence and tranquility put a new dimension to flying.

Tuesday, December 28, 2010
A very well organised tour. Terrific experience!!

Thursday, November 04, 2010
Wonderful staff..from picking up to serving breakfast!!!! great experience.

Sunday, September 26, 2010
Had the best morning, ballooning is incredible

Monday, December 14, 2009
We totally enjoyed this one! The \\\"pilot\\\" of the balloon was good and jovial! The whole team was fantastic! The ride up was so breath-taking. The landing and packing of the balloon was truly an experience. It ended all well with a nice breakfast and champagne.

Wednesday, June 17, 2009
WELL WORTH THE EXPERIENCE

Sunday, April 19, 2009
Great experience and breakfast.

Friday, September 12, 2008
Brilliant!

Thursday, April 24, 2008
Brilliant morning with breath taking views and friendly, helpful staff, Thank you.

Thursday, January 10, 2008
It was amazing and beautiful!

Tuesday, October 23, 2007
The balloon adventure was awesome, we loved it, the crash landing was a bit scary in the sugar cane field but it was an experience we can tell all our friends.
Hot Air Ballooning Rates
All prices shown in Australian Dollars
Prices valid from now until 31 March 2019
30 Minute Flight
Adult
Child
Family
30 min Balloon Flight, Self Drive ex Mareeba
$229
Includes Levies
$151
Includes Levies
n/a
30 min Balloon + Cairns hotel transfers
$270
Includes Levies
$205
Includes Levies
n/a
30 min Balloon + Port Douglas hotel transfers
$290
Includes Levies
$229
Includes Levies
n/a
30 min Balloon - Express (First Flight)
$300
Includes Levies
$229
Includes Levies
n/a
TERMS
Child Age = 4-14 years
Family = 2 Adults & 2 Children
CURRENCY CONVERTER
WE DO NOT CHARGE BOOKING FEES OR CREDIT CARD SURCHARGES
Hot Air Ballooning Simple Enquiry
Need Help With Your Enquiry
Our Cairns Office is open again in 10 hours