Home >
Kuku Yalanji Dreamtime
Click on Map Icons to View More Info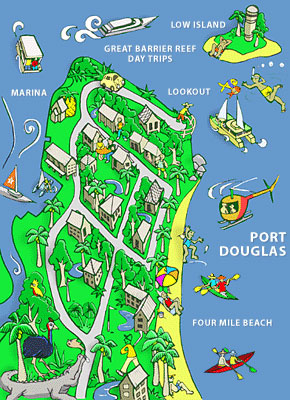 Top 10 Articles
2 Fish Seafood Restaurant
4WD Safaris
Atherton Tablelands
Bally Hooley Train
Be Cass-o-wary!
Beaches Cafe
Bistro H by Harrison's
Cairns City
Cassowary Coast Overview
Cook Family Bama Way Experience
Port Douglas Region Guide
Click Images to view gallery for this subject
Kuku Yalanji Dreamtime
Updated: 15-May-2007
The Kuku Yalanji are the indigenous inhabitants of the land which stretches from around Cooktown in the north to near Chillagoe in the west and Port Douglas in the South.
"We are true rainforest people who live in harmony with our environment. We are part of it and it is part of us. Our culture has always involved a deep respect for nature and an intimate knowledge of its cycles."
"What we know about the plants of the rainforest we learnt from our elders - our fathers, grand fathers, mothers, uncles and aunties. What we know belongs to them, to our culture and our traditions. Mossman Gorge is a very special place...its water, its rainforests and its mountains hold many stories...We invite you to share it with us."
Mossman Gorge is located only 20 minutes from Port Douglas.
Visitors on the guided rainforest walks are treated to a 1½ hour walk along private, easy graded tracks, visiting special places and culturally significant sites, past traditional bark shelters and over cool rainforest streams.
The experienced interpretive guides demonstrate traditional plant use, identify bush tucker sources, share their dreamtime legends, explain the history of cave paintings and provide an enchanting narrative of the rainforest and their special relationships within this unique tropical environment.
The Dreamtime Walks are conducted four times a day after which guests enjoy a Didgeridoo performance, Tea and Damper at the end of each tour.
Once you have finished your walk, we recommend that you visit the township of Mossman, and then take a drive up to the World Heritage Listed Daintree Rainforest and then if time allows it, a visit to Cape Tribulation; where the rainforest meets the Great Barrier Reef.

Guided Walk Times
9am, 11am, 1pm, 3pm Monday to Saturday
Cost:
Adult: $45
Child: $14.50
Family: $65
Price includes walk, art tour, tea & damper
Aboriginal Art Gallery
Free
Opening Hours:
8:30am to 5pm Monday to Saturday
May occasionally be closed due to significant cultural events
Edit This Page
Edit Page Content
Post Comment