Click on Map Icons to View More Info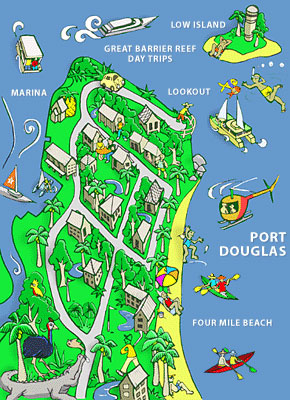 Top 10 Articles
2 Fish Seafood Restaurant
4WD Safaris
Atherton Tablelands
Bally Hooley Train
Be Cass-o-wary!
Beaches Cafe
Bistro H by Harrison's
Cairns City
Cassowary Coast Overview
Cook Family Bama Way Experience
Port Douglas Region Guide
Click Images to view gallery for this subject
When to Visit?
Updated: 14-Mar-2008
Port Douglas boasts a superb tropical climate all year round...

There are generally only two seasons in the Tropics, 'the green' and 'the dry'.

The green season begins with the first monsoonal rains, usually around December, and ends around April. About 75 to 90% of the annual rainfall is recorded then and humidity is high. Average temperatures range from 24°C-33°C (75°-91°F).

The green season is often dramatic, wildly beautiful and eagerly awaited by the flora and fauna of the tropical rainforests. Without our annual rainfall, there would be no rainforest and, as many visitors discover the wet does not interfere with diving, snorkeling or touring.

This time of year is generally our low season apart from school holiday periods. Tourism at this time of the year is growing strongly so it is recommended that accommodation and tours are booked in advance. There are many accommodation deals to be found at this time, so it is a great time to visit!


The 'dry season' from May to November brings less humidity, clear skies and comfortable temperatures day and night. Average winter temperatures are 19°C-24°C (66° F - 75° F).
This is also the peak tourist season from June until November. Families are highly recommend to pre-book accommodation well in advance for school holidays.
Edit This Page
Edit Page Content
Post Comment