Home >
Bally Hooley Train
Click on Map Icons to View More Info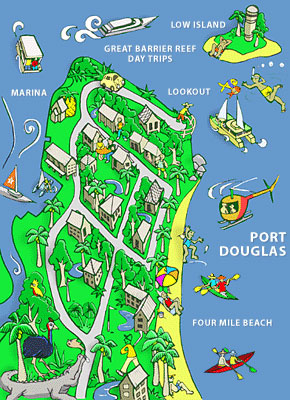 Top 10 Articles
2 Fish Seafood Restaurant
4WD Safaris
Atherton Tablelands
Bally Hooley Train
Be Cass-o-wary!
Beaches Cafe
Bistro H by Harrison's
Cairns City
Cassowary Coast Overview
Cook Family Bama Way Experience
Port Douglas Region Guide
Click Images to view gallery for this subject

BALLY HOOLEY STEAM RAILWAY

RESTORED CANE LOCOMOTIVES

DEPARTS FROM MARINA MIRAGE

GIANT TURNTABLE

OPERATED BY ACCREDITED VOLUNTEERS
Bally Hooley Train
Updated: 28-Feb-2017
About Bally Hooley Steam Railway
The Bally Hooley Train is a steam engine that runs on most Sundays in Port Douglas between Marina Mirage Station and St Crispin's Station. It was originally operated by Mossman Mill to haul sugar through the cane fields for refining in Mossman. It is now operated by a group of dedicated volunteers.
BALLY HOOLEY....Does that sound Irish to you? Well, you may well be right, as this was the name given to the end of the line up the Mowbray Valley, more than a hundred years ago, possibly by an Irish immigrant.
Nowadays Bally Hooley is the name given to the historic little steam train that operates from the Marina Mirage station in Port Douglas every Sunday.
It is historic because the two coal-fired steam locomotives (Speedy and Bundy) that haul the trains are both over 55 years old, being the very last ones used by the Mossman Sugar Mill before switching to diesel locomotives for hauling the sugar cane from the fields to the region's mill.
It is also historic because the track on which these trains run has been in existence for over a century, and the whole little set-up is much loved by locals and visitors alike. The railway is operated by a dedicated small group of passionate volunteers. All moneys collected go towards the cost of coal and insurance which are both very big "cash consumers". Maintenance costs are extremely high also.
The excursion, which takes a bit under one hour for the return trip from the Marina Station, passes through some attractive areas of mangrove, the Sheraton Country Club, and a couple of resorts to the Station at St. Crispin's which is adjacent to the 12th tee of the Mirage Golf Course. Located right alongside a tidal lake at St. Crispin's, a couple of resident crocodiles can often be seen. At the terminus of St. Crispin's Station, the locomotive is turned around on the turntable for the start of the return run to the Marina.
Edit This Page
Edit Page Content
Post Comment