Home >
Sheraton Mirage Resort
Click on Map Icons to View More Info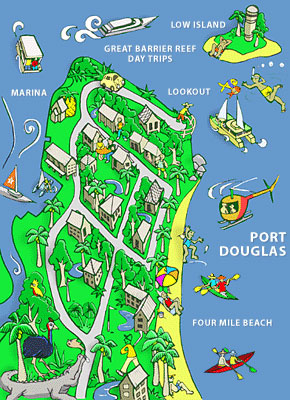 Top 10 Articles
2 Fish Seafood Restaurant
4WD Safaris
Atherton Tablelands
Bally Hooley Train
Be Cass-o-wary!
Beaches Cafe
Bistro H by Harrison's
Cairns City
Cassowary Coast Overview
Cook Family Bama Way Experience
Port Douglas Region Guide
Click Images to view gallery for this subject

RELAX AT THE SHERATON MIRAGE RESORT

DELUXE LAGOON VIEW ROOM

ENSUITE BATHROOM WITH CORNER BATHTUB

STUNNING LAGOON POOLS

GREAT FOR COUPLES & FAMILIES

BEAUTIFUL LANDSCAPING

RELAXING & TRANQUIL

WANDER THROUGH THE RESORT DIRECTLY ONTO FOUR MILE BEACH
Sheraton Mirage Resort
Travellers Tale!
Submitted By:
Updated: 05-Oct-2009
Now this is what holidays are made of! None of this self catering business, I want to relax and do completely nothing...and you can do just that at the Sheraton Mirage.
My one night stay in a Deluxe Lagoon Room was heaven. Port Douglas has got that instant tropical relaxed vibe to it, and even just heading up there for a day you feel like you have stepped into holiday mode.
My room wasn't quite ready on arrival so I wandered down to one of the many lagoon pools, made myself comfortable on a sun lounge and ordered an ice coffee which was brought over to me...ahh bliss! When you go on holidays you want to relax and not have to lift a finger and you can certainly do that here.
Resort style accommodation is a great way to go if you want access to all facilities at your fingertips. There are 3 resort restaurants, plus lounge bar and pool bar serving food throughout the day. Bike hire is available and very popular in Port Douglas to get around. It makes a nice change from always having to drive from A to B, and you get to see so much more.

You can wander through the resort straight onto Four Mile Beach, and if you are feeling energetic it is approx a 30 minute walk along the beach to Macrossan Street. You can then hop on one of the many shuttle buses back to the resort; they run every 30 minutes throughout the day until late.
The resort is fantastic for families as not only are there many lagoon pools to choose from, there is also a games room, kids club and the beach is right on your doorstep.
The Deluxe Lagoon Room I stayed in was very spacious featuring 2 double beds. This is a good option for families as with 2 double beds you can sleep up to 2 adults and 2 children.

The balcony is internal, however you can open the windows and shutters right up and enjoy the view. The corner bath tub was perfect to wind down after a day out in the sun, perfect when accompanied by a glass of champagne! Even though there are no ocean views, from your room you can still hear the relaxing sound of ocean. The Deluxe Garden Room is identical to the lagoon room; however they overlook the beautiful landscaped gardens, ponds and some of the smaller pools.
Breakfast was to die for, no wonder there is a later check out time of 11am, you need this extra time to get through all the options...now where do I start?...fruit salad, Bircher muesli, a European breakfast, pastries or shall I skip straight to the hot food and have tailor made eggs or an omelette?
There was enough time in the morning for another swim before check out, so I didn't feel so guilty about my four courses for breakfast!
If you need a break away either for couples on honeymoon or a family holiday the Sheraton Mirage is definitely the place to go to make the most of your Port Douglas holiday.
Edit This Page
Edit Page Content
Post Comment