Home >
Rainforest Habitat
Click on Map Icons to View More Info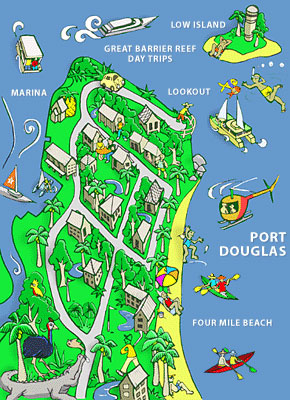 Top 10 Articles
2 Fish Seafood Restaurant
4WD Safaris
Atherton Tablelands
Bally Hooley Train
Be Cass-o-wary!
Beaches Cafe
Bistro H by Harrison's
Cairns City
Cassowary Coast Overview
Cook Family Bama Way Experience
Port Douglas Region Guide
Click Images to view gallery for this subject

BREAKFAST WITH THE BIRDS
VIEW THE BIRDLIFE UP CLOSE

HAND FEED WALLIBIES

EMU GOES FOR A SWIM

CUTE KOALAS

CASSOWARY UP CLOSE
Rainforest Habitat
Travellers Tale!
Submitted By:
Updated: 05-Oct-2009
If you are planning to visit the Rainforest Habitat then I highly recommend timing it for Breakfast with the Birds. This is an excellent half day activity, which provides a different concept from the usual zoo visits; you can literally dine whilst the birds fly freely around you!
Breakfast is a hearty affair; choose from your basic cereals and toast, to a full cooked breakfast - with eggs how you like, fresh pastries, plus a multitude of tropical fruits. Ever tried star apple before?
The birds provide the most entertainment while you dine, it's the perfect opportunity for you to sit back and watch in awe as the black cockatoos come swooping past, and see all the colours up close of the Rainbow Lorikeets. Just watch out for the cheeky ones who might want to steal a sausage or a sip of your juice when you're not looking!
After breakfast you are welcome to wander around the park or join in on any of the wildlife presentations throughout the day. Purchase a bag of kangaroo & duck food for only $2 and you will have the biggest fan club of ducks following you around, plus the kangaroos and wallabies will be your best friend!
There are two emus in the park, one of them wanders round freely, however I think he had spent too much time with the ducks as he decided to hop in for a swim too!
Inside the Wetlands Habitat look carefully as there are so many birds up high amongst the trees and down low next to the footpaths, some are so bright and colourful with patterns I had never seen before. The Kookuburras made their presence known as did the cassowaries that patrolled their turf right up close to the edge of their enclosure.
The koalas were gorgeous as ever, and of course sleeping!!!
The Rainforest Habitat is one of my favourite wildlife parks to visit up here as you can surround yourself with the wildlife and not feel like you are viewing everything through the bars of a cage. It is very educational for children of all ages and accessible to all.
Get your tickets validated on your way out and you can come back anytime for the next three days free of charge, now that's a bonus!
Edit This Page
Edit Page Content
Post Comment