Home >
Reef for Non-Swimmers
Click on Map Icons to View More Info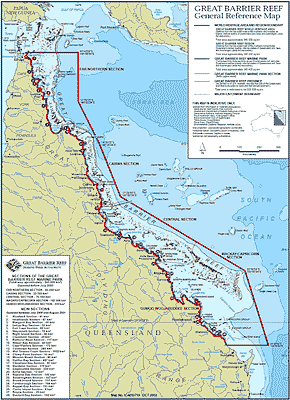 Top 10 Articles
2 Fish Seafood Restaurant
4WD Safaris
Atherton Tablelands
Bally Hooley Train
Be Cass-o-wary!
Beaches Cafe
Bistro H by Harrison's
Cairns City
Cassowary Coast Overview
Cook Family Bama Way Experience
Port Douglas Region Guide
Click Images to view gallery for this subject
Reef for Non-Swimmers
Updated: 21-Jun-2016
Non-Swimmers
Non-swimmers can enjoy a visit to the Great Barrier Reef.
Quicksilver Outer Barrier Reef Pontoon/Platform trips feature an Outer Reef Platform that is like a man-made island at the Outer Reef. There is an undercover area, sunny areas, tables and chairs, change rooms and all essential comforts for your day.

From this platform there is a semi-submersible coral viewing tour (20-25 minute tour) and underwater observatory. These tours are included in the cost of the daytrip. There is also an Informative Reef talk.

Quicksilver Outer Barrier Reef tour to the Outer Reef includes lunch, morning and afternoon tea. Also included is snorkelling gear and floatation devices such as noodles and life jackets. There is also a life saver on duty and the area where people are able to swim is marked with floating rope and buoys.
If you prefer to be on solid ground a very popular Inner Reef destination is Low Isles. From here you can see the reef by taking a glass bottom boat tour (20-25 minute tour) however the reef is not quite as spectacular at the Inner Reef as it is at the Outer Reef.

Sometimes people who cannot swim decide to book an Outer Reef tour without a platform as these tours are generally cheaper due to less infrastructure. Please make sure there is a glass bottom boat tour included in the day as it is not possible to see the beautiful colours of the reef or the fish from above the water.


Edit This Page
Edit Page Content
Post Comment