Click on Map Icons to View More Info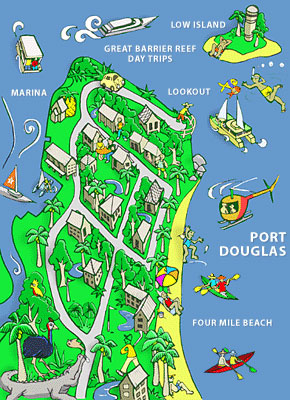 Top 10 Articles
2 Fish Seafood Restaurant
4WD Safaris
Atherton Tablelands
Bally Hooley Train
Be Cass-o-wary!
Beaches Cafe
Bistro H by Harrison's
Cairns City
Cassowary Coast Overview
Cook Family Bama Way Experience
Port Douglas Region Guide
Click Images to view gallery for this subject

quicksilver

Agincourt Reef

snorkelling

quicksilver semi-sub

the aristocat

silversonic

wavelenght

lion fish

fish feeding on wavelenght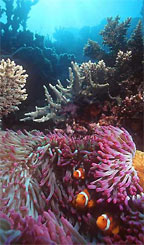 clown fish amoungst coral

calypso
Reef Trips
Updated: 21-Jun-2016
Port Douglas is the starting point for a number of excellent trips to the Outer Barrier Reef. Visitors can choose between exciting day trips or world-class extended liveaboards for the ultimate snorkeling or diving experience.
There are a number of reef sites visited from Port Douglas, all of which are considered to be among the best and most pristine along the Great Barrier Reef. Despite the hundreds of visitors daily, sites like Agincourt Reef or Opal Reef continue to boast an enticing underwater world of diverse marine life and vibrant coral.
Port Douglas is well known for it's style and sophistication and the reef cruise vessels at the Marina Mirage offer no less. Visitors can choose from stunning sailboats or luxury yachts, to the ultimate in high tech marine on the wave piercing catamarans operated by Quicksilver.

Snorkelling is a fantastic, easy way to view the reef; and is available on all reef trips. Free equipment is provided on most tours and guided snorkeling tours are available to maximize your reef experience. A marine naturalist will point out the different corals and marine life and explain their place in such a diverse ecosystem.
Diving is the only way to see the reef up close and personal. From beginner to expert, there is a dive tour to suit all levels, including one day or extended liveaboard expeditions.
Introductory Dives led by qualified dive instructors are available on many reef tours, with onboard tuition and equipment included. Beginners are briefed on the way out to the reef site to ensure both an exciting and safe first dive.
For the certified diver, the reefs off Port Douglas are home to dramatic drop offs, swim throughs and bommies. Buddy up with a dive partner, or tag along with a dive guide for a grand tour of all the nooks & cranies. Liveaboard expeditions are the best option for Certified divers, with tours to the world famous Cod Hole a must see dive spot.
For absolute indulgence, why not charter a vessel for your own private reef experience. Charters are available to groups or independent travelers, for both day trips and overnight expeditions. Follow the set itinerary, or plan your own trip to suit your needs.
Once a year, around full moon in November, the simultaneous mass spawning of corals takes place. This very special event tracks the release of the reef's polyps in an intense reproductive explosion, as billions of tiny eggs & sperm fill the water at the same time. They float to the surface and form a slick cover that may last for days. Coral Spawning is a once in a lifetime experience and highlight of night diving during November and December. Special tours are available to view this annual wonder, if you are lucky enough to get the timing
Edit This Page
Edit Page Content
Post Comment