Home >
Rainforest Habitat
Click on Map Icons to View More Info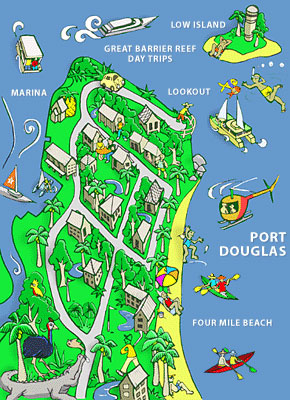 Top 10 Articles
2 Fish Seafood Restaurant
4WD Safaris
Atherton Tablelands
Bally Hooley Train
Be Cass-o-wary!
Beaches Cafe
Bistro H by Harrison's
Cairns City
Cassowary Coast Overview
Cook Family Bama Way Experience
Port Douglas Region Guide
Click Images to view gallery for this subject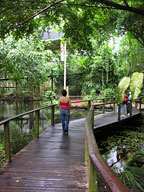 RAINFOREST HABITAT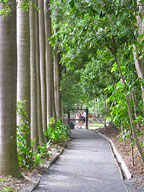 EIGHT ACRES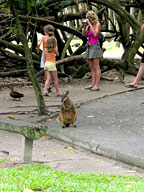 RAINFOREST WALK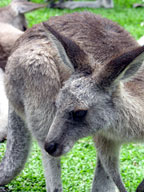 METT SOME NATIVE WILDLIFE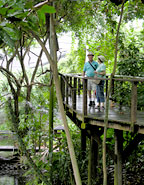 ELEVATED RAINFOREST BOARDWALKS

LARGE RANGE OF BIRDLIFE

SALTWATER CROCODILE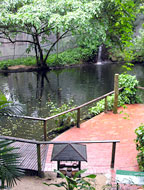 WETLANDS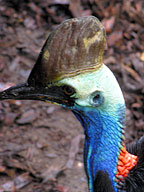 RARE CASSOWARY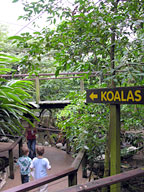 KOALA ENCLOSURE

PHOTO OPORTUNITIES

HELLO

BREAKFAST WITH THE BIRDS

GUIDED TOUR

FEED THE KANGAROOS

GUIDE SHEET & MAP AVAILABLE
Rainforest Habitat
Updated: 27-Jun-2008
Rainforest Habitat
Rainforest Habitat Wildlife Sanctuary is a unique environmental wildlife park in Port Douglas where visitors can wander through four different and unique environments that depict over 180 species of the surrounding rainforest, wetlands, woodlands and grasslands.
Constructed in 1988 the Rainforest Habitat is situated on eight acres of land that has been recreated to provide a window into our natural environment. With two of the four environments covered by specially designed shade cloth and two open air exhibits, guests fade into the backdrop as observers of the wildlife performance. Boardwalks intertwine through the canopy and rainforest floor of these environments, providing an exhilarating and educating journey for all.
Regular and informative guided tours are an essential part of the park's focus on biological conservation; experiential displays and immersion exhibits provide an experience found nowhere else.
Today the park is a leading environmental wildlife park and boasting over 1600 animals, contains the largest collection of immersion exhibits.
All these factors have allowed the Rainforest Habitat to gain Advanced Ecotourism Accreditation and become a winner of many major Tourism Awards in both Tropical North Queensland and Queensland.
The Rainforest
The Rainforest leads guests through a lush, relaxing environment where native species such as the endemic Boyd's Forest Dragon, Eclectus Parrots and Green Tree Frogs can be viewed in a natural setting. Meandering walkways allow the visitor to experience different levels of the rainforest and the varied microenvironments found within.
At ground level displays of fish and amphibians are illuminated providing a glimpse of these cryptic creatures whilst high in the canopy pigeons and parrots perch amongst the foliage and fruits.
The Wetlands
In the Wetlands an variety of birds can be viewed foraging for fish and crustaceans in waterways that wind beneath boardwalks and beside pathways.
The Wetlands exhibit is considered unique, in that it allows a glimpse of a significant ecosystem to unfold. This area depicts the amazing diversity of our natural wetlands that are important fringing areas and provide a link to many ecosystems.
The magnificent Southern Cassowary can also be found alongside a host of fruit bats and a whole host of bird species.
The Koala Habitat
The Koala Habitat is an open-air exhibit that provides visitors with an eye level view of this spectacular furry creature. Wondering through this enclosure, guests can watch as they feed, climb and of course, sleep!
For a close encounter, guests can visit the enclosure to touch, feed and photograph these captivating creatures.
Breakfast with the Birds
For the ultimate treat, the original Breakfast with the Birds is a visitor must do. Guests are seated within the Wetlands environment whilst enjoying the sounds and colours of wildlife as they wander freely amongst the guests.
Edit Page Content
Post Comment